News
Thursday, March 19, 2023
Interview - Chloe Aridjis - by Zett Aguado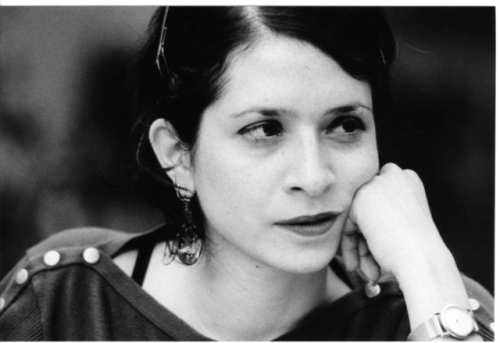 Born to a Mexican father and an American mother, Chloe Aridjis spent her childhood in the Netherlands, where her father, author, poet, activist and diplomat Homero Aridjis, was ambassador. In 1980 the family relocated to Mexico City.
In the early eighties her parents organized two international poetry festivals. The experience of meeting such great poets as Jorge Luis Borges and Ted Hughes had a lasting effect on Aridjis, and throughout her adolescence she maintained a correspondence with several of them.
Upon graduating high school, Aridjis attended Harvard, earning her BA in Comparative Literature. Following brief spells as fact checker at the New Yorker and as stills photographer on her sister Eva Aridjis's films, Chloe decided upon returning to academia.This wish, compounded by a love of nineteenth-century French poetry, led her to Oxford, where she worked under Professor Malcolm Bowie, writing her thesis on Night and the Poetic Self in Baudelaire's Les Fleurs du mal.
Continuing under Malcolm Bowie's supervision, she completed a PhD at Oxford. The discovery of autobiographies by the magicians Etienne-Gaspard Robertson and Jean Eugène Robert-Houdin inspired her to write about the interface between high and popular art in nineteenth-century France with a special focus on the relationship between poetry, magic shows and literature of the fantastic. Her thesis was later published in Spanish as Topografía de lo insólito: La magia y lo fantástico literario en la Francia del siglo XIX (Fondo de Cultura Económica, Mexico, 2005). In the spring of 2006, she gave a seminar on magic lanterns at Princeton, focusing on Robertson's spectacle of phantasmagoria.
During her years at Oxford, she began writing short stories as well as articles for various Mexican and British journals. After seven years in England she moved to Berlin, living there until late 2008. Apart from writing her first novel and a collection of short stories (Dialogue with a Somnambulist and Other Tales), Chloe Aridjis worked for the city's international literature festival, translating texts from German into English and Spanish as well as assisting in programming and voiceover. She also gave her first public reading at the festival, in September 2005.
In addition, she takes photographs, mostly portraits of writers and stills on her sister's films. She has translated several works by her father and is currently translating his childhood memoir, El poeta niño (1971), into English.
Her first novel,
Book of Clouds
, will be published by Grove Press/Black Cat in March 2009, and will also come out in England, France, the Netherlands, Spain and Italy this year.
—The obvious question. How and when did you start writing?
I can't even remember a time when I didn't want to be a writer, apart from when I fantasized about becoming an astronomer. But by the age of ten or so it was clear to me what I wanted to do. When my parents brought me home from the hospital, aged two or three days, the first thing my father did was show me his library and read out some of the titles. I grew up surrounded by books and meeting writers and hearing all kinds of tales so if nothing else, by pure osmosis either my sister or I was bound to become a writer. (She's a filmmaker). I spent my twenties in academia and studied literature at both an undergraduate and graduate level so I had to distance myself from those voices before feeling free. It wasn't until I moved to Berlin in 2003 that I began to devote myself, more or less full time, to writing.
Read more.