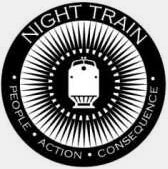 Listen at the Door
by Maryanne Stahl
In another dream
I have a tiger.
I walk him on a leash,
confident
I can handle him
but aware
of the risk.
He sleeps
in a dog crate
in a room on the second
floor. And he can
get out, if he wants.
I tell some children:
Listen at the door for the tiger, make sure
he isn't out of his cage before you go into the room.
---
Maryanne Stahl, author of novels The Opposite Shore and Forgive the Moon, lives in Thunderbolt, Georgia. To read more of her work visit her website: www.maryannestahl.com.