Night Train IV In Stores Soon!

Night Train IV in bookstores within two weeks!

Night Train on NPR!

Hear an MP3 of Managing Editor Susan Henderson and Marketing Manager Tom Jackson on KRCB's Word by Word with Jordan Rosenfeld, originally broadcast on September 15th 2004. Tom and Sue discuss Night Train's goals, the state of literary journals in general, as well as Night Train's unique 'Rail Stop' sponsorship program. Use your favorite media player and listen to it here. These are large files, so persons on dial-up, consider yourself warned.

Shar O'Brien, from fellow magazine NFG was interviewed as well. You can find that portion of the show by clicking here.


SUBMISSIONS CURRENTLY CLOSED.

We will not be reading general submissions until 2005.

But, beginning September 1, 2004, we will be reading for this year's...


Click title to go to Yates Page.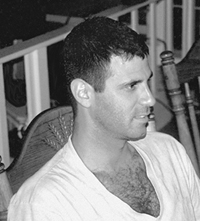 This year's competition will be judged by Steve Almond, author of Candyfreak, My Life in Heavy Metal, and the forthcoming The Evil B.B. Chow and Other Stories.
Please note well that we no longer consider postal mail submissions.

Click here to read the review.

Click here to read the article.

Click here to read the article.
See the results from the 2003 Fifty-Fifty Fiction Awards Competition here.
Last update: August 7,2023