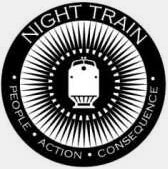 Now That I Own a Door
by Mike Young
Leave you outside, you said,
with the spider on my doorbell.
Well, maybe him? Does he want to
join me and drag-race an armored car?
Fill my molars with melted honey bears?
Stay up until two playing the mandolin
with me, lift me—it has a nice ring.
Listen, kid: all of your friends are
burnt sod and none of them want to hear
the name June laughed from a tailgate
outside a stadium of grass like tall women
thinking about something else when
they lean into bus poles, when they
won't push the door before a sigh.
Your best bets are cable receipts
and neighborhood popsicle brats
in Hulk Hogan t-shirts, asking after
more kids. No, sorry. Just a crust
of sleet—but let me check the burners
twice, then the last gimp of my Crest.
I will find one yet to let back in.
---
Mike Young's name is not a complete sentence. He co-edits NOÖ Journal (www.noojournal.com), and his work has or will appear in Backwards City Review, Juked, Opium Magazine, Pindeldyboz, MiPOesias, FRiGG, BlazeVOX, elimae, and elsewhere. Visit his blog at noojournal.com/blog.