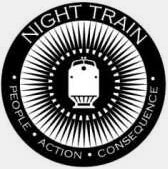 Groundwork
by David Michael Wolach
Tonight I left bloody footprints
on the steps leading to my office.
I have no office. We of the part
time have no debt. Isn't that lovely?
I did not commit the crime. I merely
walked through the crime scene.
I am not an accessory. They call
me a witness. I witnessed nothing.
Someone asked if I did it
and I told them the sun fell
long before I was born. These footprints
are not mine, they are my shoe's.
My legs did the walking and my feet
trudged through this fantastically manicured shrubbery
and before I could ask you where I'd gone
those tracks were laid to history.
---
David Michael Wolach, 28, teaches philosophy and literature at The Evergreen State College. Prior to coming to Evergreen Wolach served as a union organizer in New York City. An emerging writer, Wolach's essays, fiction, and poetry have appeared or are forthcoming in Storyglossia, [sic]Journal, Poetry Midwest, artisan, Sein Und Werden, Saint Elizabeth Street Review, Thieves Jargon, and Sorites: A Journal of Philosophy. Wolach was named a finalist in Glimmer Train's Fiction Open and recently won The Peralta Press Editor's Prize in Fiction. Wolach is also currently one of the managing editors of Wheelhouse Magazine.