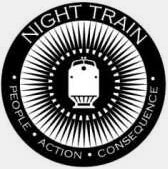 Ode to a Haymaker
by Ann Walters
Even the alphabet is precious,
golden light falling down
into the eyes of the broken
who lays there on the barroom floor
while all around the world is singing
that song again, the one that starts
with a sassy girl's tongue
tracing the rim of a glass
and ends in a sudden punch
of letters like poems
or notecards scented with violet
and marked in violent red ink.
Rolling in the sawdust, a taste of salt
and whiskey in the mouth, even
the simplest thing, even A - B - C,
takes on an aura. The clenched fist,
still held in midair, wears a halo.
---
Ann Walters lives in the Pacific Northwest. Her poetry has been published in Carousel, The Pedestal Magazine, Poet Lore, Poetry International, and others. The recent anthologies "Eating Her Wedding Dress" and "In the Telling" have included her poetry.