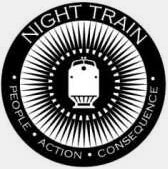 Muse
by William Walsh
Met her in a bar. She approached me. Those italics are important.
"Aren't you the poet?" she asked.
I waited a beat to answer, "I could be."
She gave me an envelope.
"What's inside?"
"Your next poem."
The bar was filled with shaved-head mommy boys, their crowns like newborns. I stood out with my hair curly on top and short on the sides.
"Open it," she said. "It's a title indicating a central image and a broad theme."
"Seamus Heaney said titles are meant to be thrown away."
"You can throw this one away."
"I just might."
"You won't."
"Fucking sure of yourself."
"Fucking sure of myself."
If she looked like anybody, she looked like Natalie Wood. Chestnut brown hair, shoulder-length, shiny. Her eyes appeared completely brown. That is, a dark brown very close in color to their pupils, and the whites of her eyes showed only when she opened her eyes extra wide. She was wearing a black leather vest with nothing underneath. Her breasts weren't big, but that's all right by me. Low-ride jeans, tight, little black boots. She was not dressed for church.
"Title to my next poem?"
"You just have to write it."
"Mine? No fees, dues, what-have-yous?"
She nodded her head yes, but said, "Or you could opt to sleep with me tonight."
The envelope was in my hands but still unopened. The television at the bar had on a reality show set in a tattoo parlor, which inspired those at the bar to begin showing their tattoos to one another, to share their subtexts.
"And if I do?" I asked.
"No envelopes. Plus you forfeit future envelopes."
"How many future envelopes?"
"Possibly an endless number."
***
The envelope remained unopened until breakfast the next morning in my apartment, when I suggested marriage.
She could not hide her surprise. She smiled wide, a full-face of delight that I am sure mirrored mine.
"And babies," I said.
Her eyes watered. Clearly she had never thought about being a wife, a mother, raising a family. There was a shift in power. (I could write about that.)
My guess is she was one thousand years old the night we met. She had served hundreds of men like me—writers, painters, composers, and, more recently, a jazz trumpeter who is probably one of the three or four most famous jazz trumpeters. And some women, too, a ballerina, a stage actress, a field botanist.
She accepted my proposal, told me I could open the envelope.
So I got only one poem. One poem. But I've written that poem fifty, sixty times so far. And I will keep writing it.
---
William Walsh is the author of Questionstruck: A Collection of Question-based Texts Derived from the Books of Calvin Trillin (Keyhole Press, 2009) and Without Wax: A Documentary Novel (Casperian Books, 2008). In addition to work forthcoming in Annalemma, Pank, and Artifice, his stories have appeared in Kill Author, Lit, Caketrain, New York Tyrant, Juked, Rosebud, McSweeney's Internet Tendency, and other journals. A story collection called Ampersand, Mass. is forthcoming from Keyhole Press.