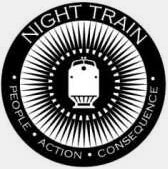 Follow
by Van Ray
Something is different in the way
this poem is written.
Will you follow?
The poem is to you but not for you,
not about you.
The I in the stanzas is not me
but him in the lambskin coat
with the mustache rolled up in a coil.
The you in the verses is not you,
but her with the sapphire earrings,
wearing the blue dress and stilettos.
Do you follow?
The we is not us but they,
They are walking into the tunnel,
their shadows stretching thinly,
the click clack of their shoes echoing the wall
that I follow.
Not to say I do not _____
(what is the word that follows)
you. What is the word?
The word is the way we were;
They are reaching the light on the other side;
I follow.
---
Van Ray claims to abide by three Ps: Poetry, push-ups, poker. He wants to write a book but he doesn't write enough and for now is content with penning short poems, however infrequently. He was schooled at the Creative Writing Department of San Francisco State University and currently lives in the Bay Area with his wonder dog, Pickle. Before it's too late, he may be reached by e-mail with a subject heading of, "I liked your poem because... " at [email protected].