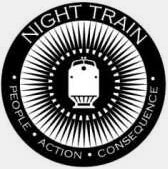 Pumpkins
by Ivy Page
Litter my lawn like old lovers,
broken and nameless in my memory.
Only this one winks at me
luscious and familiar,
like the warm lick across my thigh
when you come to bed early,
flashing bright eyes and evil grins
a graveyard of transgressions, lingering.
I try and recall each
of the names, but only a handful
come—vague memories of nights
in dirty living rooms
listening to the sex
in the next room, teasing
pumpkin head #12 with my newly pierced
tongue. He went searching
for a candle to light his head.
He is still hollow. Glowing
with the light I gave.
---
Ivy Page is a poet whose poetry has been described by Ross Gay as, "passionate, sometimes heartbreaking, sometimes hilarious poems, (which) always have a deep and generous intelligence." She lives in the foothills of the White Mountains of New Hampshire with her husband and two daughters. Her love of poetry stemmed from listening to her Grandmother reading poetry aloud to her as a child. It took shape as lyrics in the music she wrote during her late teens and early twenties, and turned to poems on the page and experimentation with performance poetry over the years.

Ivy graduated from Plymouth State University with a BA in English and minor in Medieval Studies, and went on to complete her MFA in Creative Writing at New England College where she was able to work with poets such as Ilya Kaminsky, Malena Morling, Brian Henry, Gerald Stern, Paula McLain, and Maxine Kumin.

Ivy has taught creative writing for Plymouth State University's Community Education program and currently at D Acres in Dorchester New Hampshire, and is currently an adjunct professor at New Hampshire Technical Institute in Concord New Hampshire. Her work has appeared in Cantarville, Snow Monkey, Oak Bend Review, The November 3rd Club, and forthcoming in the September issue of The Houston Review, and the fall issue of the Boston Literary Magazine. She also has a book review coming out in the winter issue of the New Southerner.