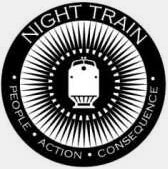 Three Poems
by Reb Livingston
Prophecy 4:1
Do not be at ease, for I will mislead you: I will beam with one and sweep with the other, for I have two detached peepers.
Prophecy 4:2
All your fornications are asylums welcoming refuges; when they are lonesome, their thrums blossom into bedlam and wrecked anthem.
Litany for the Fishyman
Dear imitator, seeker of ceaseless trance,
they surrendered, bit and tugged the divine rod.
First you evaded, then sunk those receptacles
passing for your cherished vessels.
You were not simple, nor equipped
as a lover of inchworms and how
you measured all those flailing fins,
yours and theirs, you could have snipped:
"Spy my impulse for trickery, my needlings!"
You could have alerted your mere domestics
and teeming imports, seeing they were fishy food
for your promiscuous hooks. Seeing they were
baited and lured, made servants for your bobby mouth.
---
Reb Livingston is the author of Your Ten Favorite Words (Coconut Books, Fall 2007) and Pterodactyls Soar Again (Whole Coconut Chapbook Series, 2006). She's also the editor of No Tell Motel and publisher of No Tell Books.