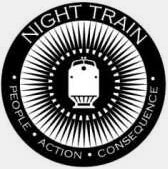 Two Poems
by Thomas Patrick Levy
Fire Alarms: A History of Our Travels
In Boston you made love to me in the shower and the walls smoked us into our robes.
In Springfield the smoke was rubbed into my skin like the lotion of an aloe leaf. It would be months before we could think of Boston, and with each of your breaths I traveled alone, bludgeoningly, through New England towns, my exhaust stinging your thighs.
In Tennessee it was too hot for heat. We washed each other in the dust that rose up from around our blankets.
I couldn't touch you for two weeks.
In California Thanksgiving was like a false alarm, your cousin wearing a smile like lingerie.
At home I touched me for myself. I filled my mind like a glass of lemonade, new trees growing in the ash of your forests.
Your cousin will be married soon. She's pressing herself against his thread-worked jeans, and you are reading alone, in Los Angeles, with the television watching itself, with the fire alarms trying to warn you about me.
Transubstantiations
From her car I watch the rain
coming down onto the street,
across the stoplights and the crosswalks
and the concrete wakes
into a wetness
like her body of streams and sky.
I tell her how I had looked outside
to watch myself congeal
within a thinning glass of governed night.
I tell her how I cross myself
across her eyes and lose
myself onto the freeway with the cars
all paused into the sunset,
blushing light stretched over our hoods
like ribbons of wine.
We were in a basement like a cave
drinking orange juice and schnapps
when I watched her cry until dawn.
She told me there were flowers hanged from vases,
there were factories, and there was corn,
and in the sky there was cold air
we could try to weave away—
but we'd still shiver, she told me, we'd still suffer
fucking each other, and we'd still resign to welts of sleep.
---
Thomas Patrick Levy's first poems were written secretly, in the bathroom of the therapeutic community he lived in for two years. Recently, his poems have appeared more publicly, in Barbaric Yawp and Arcadia. He attained his B.A. at Seton Hall University, and is currently pursuing an M.F.A. in creative writing at Antioch University in Los Angeles. He lives near Newark, NJ, where he works at The Star-Ledger.