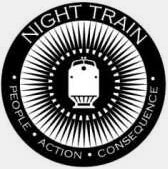 Today's Tall Tales
by Tim Horvath
Two ice trays: one full,
the other empty. Holding them
together, he slaps
and the ice hurtles
into the waiting slots.
Not a single cube misses.
A principal and kayaker:
out with strangers,
he leads them
amid vaulting swells, then
tips over their boats.
He paddles and shoots pedagogy
with those who survive.
She had sushi virginally
at her doctoral defense,
rendered speechless at the disputation raised
by the yellowtail.
A bee, backed like a buffalo,
hovers and stares
In my back yard, aware of me
through the glass door.
---
Tim Horvath (www.timhorvath.com) received his MFA from the University of New Hampshire in Fiction Writing. His stories won the 2006 Raymond Carver Award and '06 Prize of the Society for the Study of the Short Story, as well as the Thomas Williams Memorial Prize and the Lt. Albert Charait Award at UNH. His work has been published in Carve, Cranky, Eclectica, SleepingFish, pacific REVIEW, and elsewhere. While revising his first novel, he is working currently in a psychiatric hospital. He is also the poetry editor for Entelechy: Mind and Culture.