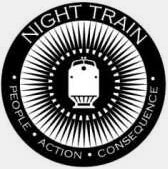 Almost Christmas
by Nathan Graziano
Jackson told me, over the telephone, that this new girl he'd been dating liked to be choked and slapped while getting fucked.
I said, "Jackson, this isn't going to end well."
The beer bottles were lined up, two finger-lengths apart, on the table in front of me, one plugged with wet cigarette butts. I had the phone book spread open and the number for Alcoholics Anonymous underlined in pencil. I told myself I was going to call, as soon as I got off the phone with Jackson. The next morning, I was heading to jail—doing ten days in county after my second DWI. Something like a clenched fist had been floating in the center of my chest for weeks, a hardened pit of fear that had been making me nauseated. I'd never been to jail and never imagined I would. I'm soft. And somewhere, at that very moment, my ex-wife was probably riding her cop boyfriend, some handsome bastard named Brad, straddling him in the same bed where we once slept. And somewhere Jackson's first wife was probably fucking a black man while Jackson was talking to me about his new one, a divorcee who worked at the Target in Oxford and liked to be roughed up. And somewhere, even farther away, there was this vague recollection, the dimmest of the dim stars, that all of this, at one time, used to be fun.
A beer popped on the other end of the line. "The other morning, when I was coming out of the shower," Jackson paused and sipped and burped. "And Mark, I ain't shitting you, my friend. Cindy was standing in front of my bedroom mirror in her bra and panties, talking to herself in a baby voice. Then she turned to me and asked, in this baby-voice, if I'd choke her."
"Did you?"
"I couldn't."
It was almost Christmas, and the convenience store across the street had recently put a single plastic candle behind the bars in the front window. It hummed to me. "Jackson, you're a good man."
"No," he said and he kept drinking. "No, I'm not."
---
Nathan Graziano lives in Manchester, New Hampshire with his wife and two children. He is the author of Teaching Metaphors (sunnyoutside, 2007), Not So Profound (Green Bean Press, 2004), Frostbite (GBP, 2002) and seven chapbooks of poetry and fiction. His work has appeared in Rattle, Night Train, Freight Stories, The Coe Review, The Owen Wister Review, and others. His third book of poetry, After the Honeymoon, will be published in Fall 2009 by sunnyoutside press. For more information, visit his website: www.nathangraziano.com.