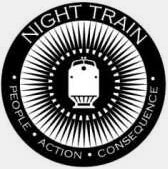 Chocolate-Colored Eyes
by T.J. Forrester
Outside the church, Erin smooths her pretty pink dress and angles across the lawn toward a boy slouched against the wall. Demetri, a sharp-nosed kid growing too fast to keep up with himself, drapes one foot over the other and loosens his tie. His chocolate-colored eyes squint when she draws near.
"What about you?" he says. "You know what sex is?"
Erin sticks out her tongue.
"You're a freak," Demetri says. "A real freak."
She pulls a grass blade and pretends to smoke. "Sure, I know what sex is. Everybody knows--"
"I had some sex last night."
"Oh sure," she says. "I bet you have it all the time. You're twelve."
"You have to use a condom. If you don't it'll swell up like a balloon. Then you have to go to the doctor and get it pricked. Hurts like fucking hell."
Fucking hell. Erin rolls the words around her mouth. The fucking hell you say?
"Yeah," Demetri says. "It'll swell up and you have to get it pricked with a needle. Stick it right up the old peehole. You want something stuck up your peehole?"
She sucks on the grass like it was old times now—as if she'd been doing it all her life. "Who would want something stuck up their peehole?"
Demetri's voice cracks when he says, "I got a boner."
"Fucking hell," she says.
"You're not but nine, I bet you don't even have pussy hair."
"You are disgusting." She tosses her head and glares.
"Show me," Demetri says, "show me your pussy."
She swivels her head to the right, and then to the left. Her father, dressed in a blue suit, stands on the church steps. His back is to her and he looks far away. She suddenly wants him, wants to hear his gravelly voice ask June Bug about her day, wants to smell the tobacco scent on his collar, wants to giggle at the odd way his caterpillar eyebrows hump when he tells a knock-knock joke.
"Aw, come back," Demetri says, when she strides across the lawn. "Don't you want to be my girlfriend?"
Erin reaches her father's side and he puts out his hand. It feels warm and makes her feel good all over. She squeezes and he squeezes back. She watches Demetri shuffle toward a green SUV. Girlfriend? She shivers and wraps her arms around her chest. Would he kiss her and tell her he loved her and take her to Disney World? Would he carry her books and marry her and give her a promise ring? Demetri and Erin sitting in a tree, k-i-s-s-i-n-g.
Her father touches her shoulder but she doesn't look up. "What are you smiling about, June Bug?"
She hugs him but does not look him in the eye. She is not sure if this is the end or a beginning.
"Nothing," she says, the guilt rising in a prickly heat wave across her cheeks. "It's not important."
---
T. J. Forrester's fiction has appeared or is forthcoming in Harpur Palate, The MacGuffin, Mindprints, and in other journals as well. He has received a People's Choice Award and recently published a story in the award-winning anthology Rebellion--New Voices of Fiction. Three of his stories have been nominated for the Pushcart Prize.