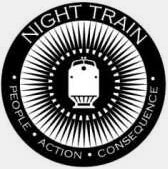 Half in Love
by Danielle Davis
My freshman roommate—let's call her Melanie—was half in love with me. We were half in love with each other.
She said I was pretty. I said she was smart.
We stayed up late and took our bras off without removing our shirts.
We dreamed of moving to China and collecting birds.
Over winter break, Melanie sewed me a photo album, a picture of us on the cover.
That spring, we shoved our beds together even though her teeth grinding kept me awake.
In math class, a baseball player walked over and asked for my number. He might miss class for games he told me. Oh, I said, amazed at his bright blue uniform and clacking cleats.
When I went out with the baseball player, Melanie sat up in her La-Z-Boy. She yelled that I was late,
Moby Dick
flickering on the TV screen. I guess so, I said, giddy on coffee with Kahlua and ice cream.
Melanie broke glasses against our wall, the one opposite our beds.
We stopped taking our bras off tricky, just the normal way, first shirt, then bra, turned toward each closet.
In June I took a final while the baseball player moved the big stuff from my room.
When I got there, he was carrying my microwave.
And there was Melanie in her La-Z-Boy,
Written on the Wind
playing. She wore jeans and no shirt, her breasts big and bare, like a mermaid on the bow of a sinking ship.
---
Danielle Davis lives, writes, and walks in Los Angeles. Other work of hers has appeared in RipRap, Ghoti, and Carve Magazine, and she keeps up an eco/conscious living blog at www.lessismorebalanced.com. She is currently working on a number of books for very young readers.