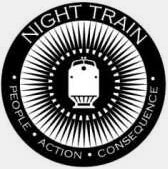 Things Like This Drive Me Out of My Mind
by Stace Budzko
My buddy Madison calls me in the middle of the night to tell me he's broken down with a flat just outside Springfield, and can I help. Mind you, this man has his own driver.
Where's Phil, I say.
Outside on the hood, Mad says. Blowing steam.
So that would leave you. . .?
Inside the Lincoln. . .with Mr. Johnnie Walker here.
He rattles the ice in his lowball glass.
About this time my new girl Haley pokes her head from under the down comforter. The top of her hair looks like she's been hit by an electric charge; the sides are damp from the pillow. She's that kind of dreamer.
Back to sleep, you, I say.
Aye, aye, captain.
I finger the floor for one of her clove cigarettes. In our wild sex, Haley has overturned the nightstand. The rest of the floor is ash and candle wax—an easy reminder of our student/teacher affair.
These days we are full on, and burning.
Turns out, Mad is on the last leg of a trip from Hartford to try to get this big-time insurance company off the hook. They did a number on these seniors and now these seniors are causing a fuss. Being the legal mind that he is, Mad was brought in to make things, well, not so fussy. That's what he does—smoothes feathers. In our high school yearbook he was voted Most Likely to Become a Diplomat.
Pal, he says. It would seem I'm in need of your services.
Mad likes to call me this: Pal.
He asks, Are we sitting down?
In a manner of speaking, I say. I'm on my back, if we're getting technical, I reply.
Vicky is with child, he says.
I let this information sink in:
Vicky.
His new girlfriend.
My ex.
Are you hearing me, Pal? Atticus Finch, here, could use your counsel.
Through my bedroom skylight a lunar eclipse is happening overhead. I inform Mad about the night scene above. All evening Haley and I had waited for this heavenly tango. It's the play on her name we seem to explore—things space related. Over Mooncakes and Skybars we watched Apollo 13 only to fall asleep long before the
Houston, we've had a problem
line. I forget who nodded off first.
Mad, I ask. Are you looking up?
I wait to hear his limo roof open, the rush of highway traffic filling our phones, perhaps a hint of regret for the Vicky fiasco.
Nothing. Nada. Zilch. Only the constant rattle of cubes against crystal.
Honestly, I say, I think you should take a peek.
He says back, To educate a child, focus on the intersection of two charmed circles.
Come again?
Something I read once.
For as long as I can remember, Mad has this way of quoting philosophers and psychologists, experts of various stripes. He admits never actually studying any of them. That could be why we remain friends: my ability to pretend to care and his willingness to act like I do.
What are you getting at? I ask.
Never mind, he says. Just hurry.
***
Things like this drive me out of my mind: cars without radios. . .psychics with satellite dishes. . .hard shoulders.
It was the day before that Haley and I drove north to Salem. With only the hum and thump of knobby tires coming in through the Jeep's soft-top it was obvious what she was hinting at with this impromptu get-away. Coupledom. She wanted me to feel free to show affection without the threat of someone noticing us.
If you ask me, worry comes with this type of arrangement.
Ask her and she'll say discretion is no deal breaker,
pops
.
The entire drive all I could think about was my car stereo and how Vicky tore it out during one of our last scrums. Beyond the other issues of our turbulent union was my inability to talk about serious matters without music playing in the background. More often than not my DJing would send her into a tizzy fit. As she called me on this sonic tic, up went the volume.
Eventually she tore out the entire operation. Subwoofers too.
But back to Salem. As Haley and I lunched at In A Pig's Eye we were arguing over, of all things, heart lines.
Can't say I can swallow it, I admitted. That whole psychic shebang.
Not Haley. Haley was of the belief that the palm reader we went to earlier was gifted. In fact, what this clairvoyant was saying seemed to have her reevaluating. And not in a good way.
Granted, we'd been drinking. Or at least I had.
Haley's not into that business—drinking before noon.
Anyway, where I took exception was late in the appointment at this witch doctor's house. And the place fit the part. It was one of those gothic revivals that scream
trying too hard
. The real issue, however, was seeing how this mitt hound led Haley down a crystal-crazy path that she was in the presence of an inconvenient specter.
Those were the visionary's words: an inconvenient specter.
Read: me.
This got my very true senses working overtime.
Here we were in a place that smelled part patchouli, totally contrived. For every table and flat surface was a candle pierced by a sconce or set upon a cherub pillar. The tea she poured was predictably herbal. And yet there were things that didn't quite add up. For instance, there was a satellite dish on the roof. A satellite dish! What type of supernatural needs that much entertainment? Put this with the
Palm Reading for Amateurs
on her bookshelf and fortune cookie wrappers scattered on the floor, and I was less than convinced.
When I called Madame Z (or whatever her name was) out on these things, I was informed I was behaving in an unwelcoming manner. Note: this was said while studying my dominant paw in the semi-dark. On and on she went into this exegesis about my heart line—pointing out the crosses and breaks that to her suggested emotional instability. Based on the analysis, did the two of us follow?
Haley did.
I didn't. Where the palmist identified crosses and breaks, I found a continuous upward curve, which anyone knows indicates a warm and reasonable nature when it comes to matters of the heart. Had she ever bothered to tune into Sylvia Browne on Montel? Her premonitions are never solely doom and gloom. And "Sylvia Wednesdays" get some of the highest ratings on afternoon television. She might want to switch on.
This tip was met with a dismissive sometimes-we-see-what-we-want-to-see reply.
Suspicions confirmed, I switched off.
The long and short of it, I didn't get this gypsy's hocus-pocus or the way she would eye only Haley whenever she looked up from her exam. And the entire affair struck me as unfair, shortsighted really. There in this voodoo claptrap I was being evaluated as if I was a nonentity.
What can you do, Haley said between bites of her Cubano, back at the Pig. Isha is a seer.
A seer. That's one word for her.
Honey, she did find your Sun line. That was hot.
Fork in hand I tapped the edge of the table. Dollars to donuts, she signs her checks Amy.
As if sensing turbulence, Haley tried to calm me down with an arm caress.
How's this woman remotely credible? I asked, pulling away.
We're together aren't we? Love works in mysterious ways.
***
About a halfway into the trip to Springfield I check back on Madison.
For the sake of full disclosure I should tell you I intend to do right by her, pal, he says. Our Vicky.
His voice is sincere. As usual, his ability to find reason in the unreasonable is intact.
That's something about my friend I've rarely questioned, his pragmatism. To do so would dismiss the importance of an aimless Sunday drive. Alone. The same can be said for getting on a plane with no particular destination in mind. Again, with you and you alone. Things need to play out. Once you challenge reason, emotions take over. In a way I guess that's why Mad's hook-up with Vicky was something I've accepted. Here is this down-to-earth guy who happens to be interested in this no-nonsense gal. The fact that Vicky and I shared an imperfect and not always logical history together was an issue I had to learn to deal with. It is what it is, as they say.
So you've given the moon a once-over, I say, and you're fine with things.
However, replied the universe. The fact has not created in me a sense of obligation.
Mad is quoting again.
Let me guess, Stephen Crane?
If you didn't get that I was going to call that college of yours about their vetting process.
My chest puffs, not because of pride, but from fear of the unknown. That nagging voice inside that says
turn away, turn back, turn off
. I feel the seatbelt tighten. Unbuckle.
Where's Phil in all this noise? I ask.
Seems our man is still on the hood, he says. Smoking up a storm.
Wasn't he a weatherman in a former life? Perhaps he's appreciating something?
Maybe. Or maybe he's just smoking his Nat Shermans.
Dare I ask, isn't this is
his
limo service.
That it is, he says. But it would seem our fine driver's too busy second-guessing
his
universe to care about spare tires or a basic AAA membership.
I hear Mad refresh. The pour of his scotch reminds me of something. I do a quick inventory of recent memories. A black hole.
Pal, Mad goes. I have favor to ask.
Another? I go. Driving in the middle of the night is colossal.
Agreed. But all things end badly, or else they wouldn't end.
Say again.
What I'm saying is it's best interest of everyone involved that you raise it. I'll cover finances of course. Of it.
It?
It!
I can't think of a dictionary of other pronouns that would feel less impersonal:
Rug rat.
Ankle biter.
Whippersnapper.
Tyke even.
Mad, were you just quoting the film
Cocktail
earlier? About things ending badly?
This line of questioning is followed by uncomfortable silence. Like Celine Dion would be a welcome distraction about now.
Eventually, he follows with why. Why he concludes that he couldn't and shouldn't be a father. And he admits he's thought about this more than any case to date. Even the questionable ones. Today for example. He tells me he can live knowing he's fixed it that more lives will be more bearable tomorrow than there were yesterday. That's how he stomachs the work. But when it comes to raising a new life, what measure is that?
Have you shared any of this with Vicky? I ask.
Pal, I'm a lawyer not a magician, he says.
You might be selling yourself short.
Doubt it, he says. Open my toolbox and you'll find a Brioni suit and a Cartier pen. Not good daddy material if you ask me. Follow?
I'm not. His ability to persuade is his stock and trade. And not just in business.
Seriously, Mad could convince you yesterday never happened, now isn't what you think, and tomorrow is only as real as what he tells you. This petrifies.
Eyeballing the empty slot that once housed my Alpine, gets me singing. Between exits I belt out that Gary Numan hit. The one that goes: Here in my car/I feel safest of all/I can lock all my doors/It's the only way to live/In cars.
When I first played this to Haley I described it as
liberating
.
Haley's take—classic road rage.
Forgetting that this tune came out the same year she was born or that Mad is on the other end of the line, I repeat the verse. Louder. And although I've always trusted Madison and his talent to deal with sensitive situations, I'm less than ok about what he's suggesting:
About Vicky.
Their situation.
And how I fit in.
Which brings me to what I couldn't remember earlier.
Outside the restaurant that day in Salem as Haley and I tried to settle our bill, we were interrupted by this parade of muscle cars rolling down Derby Street. It was quite the sight, those polished classics shining in the midday sun. Take stunning to the tenth power and you might be close. They made you think about places you've always wanted to go while at the same time taunting you about always staying put.
Haley wasn't so impressed, but agreed to stay.
Me, I had this urge. If wanting to get behind the wheel of a Firebird is an actual feeling, that is. I had this desire to hop in that glorious machine and ride. T-Top down. It was this need to slam that car in reverse and travel back (or maybe forward) to when Vicky and I vacationed at the Indy 500. Her birthday gift to me. For an entire week we wore earplugs and goggles. We were never closer.
After the cars left Derby Street, I ordered a glass of milk.
Halfway out the booth, Haley asked, What are you doing,
you
?
What we're doing is celebrating. Like they do at Indy. Care to join?
Her eyes rolled to the ceiling.
My eyes read: she'll have a drink if it means we'll behave, like normal couples behave.
***
There, on the Mass Pike, the Jeep turns inconvenient—a problem with the transmission. The overdrive refuses to engage at 50 mph. I shift from 5th to 4th to avoid further complications. This gives the false sense of lift off when the vehicle hits the slightest crest in the road.
As I approach Springfield, Mad rants about, of all things, hard shoulders.
Pal, he says, I heard every note. Stuck like I am, on the hard shoulder.
And? I say.
Trust me, you can't sing to save your life. Vicky agrees.
I weigh the implication. The Vicky part.
You, my friend, should consider other facts as well.
According to Madison, a motorist parked on the hard shoulder is more likely to be involved in an accident than someone travelling in traffic. How does he know this? Last month he was brought in to settle a lawsuit involving a major trucking company and a motorcyclist who pulled off 128 during rush hour, in the rain. Turns out the semi's wipers weren't working properly. Subsequently, the cyclist was knocked silly—like he had to learn how to walk and talk again. When I ask Mad how he can be impartial, the way he is, he says it's easy. Avoid feelings.
I make out the flicker of his emergency brakes.
Tell me what we should do now, Pal, he says. How should
we
proceed?
Over the whine of the Jeep's engine, I tell him to stay put. I'm almost there.
The eternal silence of these infinite spaces fills me with dread, he says.
Didn't you say that last year? I say. When Vicky and I were celebrating our anniversary?
It makes you think, doesn't it?
Think what?
Why any of us bother to listen.
---
Stace Budzko has recently been anthologized and/or published in The Rose Metal Press Field Guide to Writing Flash Fiction: Tips from Editors, Teachers, and Writers in the Field, Flash Fiction Forward, Brevity & Echo, Hacks, Quick Fiction, SmokeLong Quarterly, Long Story Short,/i>, Southeast Review, Diner, Passages North, and Carve Magazine. In addition, he was a finalist for the Writers at Work Fellowship Competition, Waasmode Short Fiction Prize, Glimmer Train's Very Short Fiction Award, Night Train's Richard Yates Short Story Award, Carve Magazine's Raymond Carver Short Story Award, and Southeast Review's World's Best Short-Short Story. At present, he is a writing instructor at Emmanuel College as well as the writer-in-residence at the Institute of Contemporary Art, Boston.