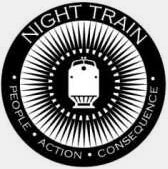 Ghost Story
by Laura Valeri
I dreamt my mother last night. She was dressed in sack, with her hair iron silver and she complained again to me.
"Bring flowers to my grave. Roses. Once in a while, you could have a mass said for me. It wasn't so long ago I died."
She wore her knit wool shawl, like she did in the last days of her life, you know, with those petals crocheted into the pattern. It took me hours to do it. When we were young, my mother took care that we learned a trade. Your aunt learned tailoring, and I learned crochet. I remember crocheting those flowers into the quilts I gave your mother for her wedding, too, and the party favors, oh, you should have seen your mother's wedding's party favors, with the frosted almonds and the silk ribbon tying them together. I did all those roses, one by one, with the petals folded in like they were buds, with pale green and rose cotton threads woven in with the silk. Would you believe it? They were so pretty some of the guests didn't know that they could take them home. They asked us about it: how pretty, these party favors. What are they for?
Anyway, as I was telling you, when I woke up, I had a bad feeling about the dream. The dead don't come talking to you just to complain about the weather. I never dream about my mother. When I do it's usually because something is about to happen. So anyway, just in case, as soon as I woke up, I had my coffee, and I put on my dress, and I called your cousin Dario, and I had him drive me to the cemetery. While I was there, I brought flesh flowers, too, roses like she asked me, because you never know. I brought flowers for the whole family. And it was a good thing, too because your grandfather's grave needed a little dusting and your great grandfather's grave hasn't been visited since your aunt cheated me out of the apartment. And this is the strange part about it. I found the niche, where my mother's ashes are buried, with the marker split in half with a crack in the stone right by where the rose buds are carved into the tile. And even stranger than that, the vase had been tipped: it had fresh water in it, and someone had put a rose in it already. It was a fresh rose, so it had to be just no more than a few days that it was there, red like blood, the outer petals still a little wet with dew. Who put it there?
I called your aunt, and she said, "Really! I dreamt about mother, too. There was thunder in the dream. I was going to go to the cemetery myself but my foot is swollen again today."
Thunder! I couldn't help thinking of that cracked stone. In the name of the Father and the Son and the Holy Spirit, I hope it doesn't mean something bad. Oh, Madonnina, it wouldn't be some kind of warning? Anyway, it wasn't your aunt who put the flower there. It wasn't Dario either. He drove me and he would have told me. I asked Dario: "It wouldn't be your wife who put the flower there, could it be?" My girl, I don't know why I ask him. His wife is a Communist, don't you know. She doesn't believe in Christ, nor Mary, nor even the Holy Ghost if it visited her in the bathtub while she was having her bath. Besides that, she's as selfish as a Pisano tax collector. I don't think she's visited her own father's grave once since he died three years ago, why do I tell you? But I asked, just to be polite, and of course as expected, Dario said she hadn't left the house in weeks, in preparation for some kind of tax thing she was preparing for the Mayor.
So I called just about everyone when I got home. I didn't even take off my coat. Look at it. It's still hanging in the stanzino. You can still see the cold dew on it: just now I got home. Look: my hair is still a little wet with the cold. I called your aunt Bice, and she asked her mother, and I called Giuseppa, and I called Beppina, and Minello, and even Pippo, whom I haven't talked to in years. Nobody had put the rose there.
Ohteh! It's a mystery.
A red rose, freshly budding, with its outer petals a little bruised, like someone had touched it, plucked the outer petals for luck. A secret admirer, maybe.
It makes me think about the last days when my mother was sick, the dreams she had about a ballerina. You know, in those last days, she was practically incoherent. She couldn't recognize your mother when she came to visit her. She was mostly always sleeping, you know, smelling of saliva and urine, the medicine knocking her out, the bed pan always swishing around a little under the covers before we could get it out. But sometimes she woke up startled from her nightmares, with her hand, bony and withered like a bird's claw, clutching her bosoms with the folds of her nightgown. She were that shawl then, too, yellowing at the seam, the roses I knitted into it curling at the edges from age and too many washes.
"The ballerina, the poor ballerina!" She was always ranting on about some ballet dancer she saw in her dreams, a dancer who was persecuted by a man in a dark coat and fedora. It was a recurring dream, we thought: she watched a beautiful ballerina perform, and then, always, like the persistence of old age, a man would come to abuse her.
"That dark man! That awful, awful dark man hits her. He threatens her. He takes her arm and twists it until it breaks." She went on and on about it, Madonnina, it makes me want to cross myself. Even now I can hear her, that crackly thin voice that dissolved like a host with a little bit of spit. Ohteh! We thought it was the hallucinations of near death.
Even your mother once asked me, "Was grandma a ballet dancer before she met Egisto?" And she wasn't even a little girl anymore, your mother.
Now, I would have laughed had it not been my mother's deathbed. A ballerina! We didn't have a penny in the family. We were farmers, all of us, my cousins, my grandfather, all of us but Egisto, whom, as you know, worked in the factory. And before the factory, he worked in the stables, stacking hay and cleaning horse manure. Not that it's something to be ashamed of. The poor have dignity. Ohteh! Even Jesus said it is easier for a camel to pass through a needle's eye then for a rich man to enter Heaven.
Although, now that I think of it, my great grandmother was a countess, yes, and we were always told as children that she once had estates, stables, and wineries, and an olive grove, and a mansion with fireplaces in every room, somewhere up near Grosseto. It was a Napoleonic title, and it could be inherited only through male heirs. Nonna Giulia was the only child, so the title died with her, but she did have that title, and the pension of a countess that came with that title, and lands, and all those fine things. You know we are poor as dirt. My mother's father was a farmer. I don't think they had ballet school up in the hills of the maremma. Because the countess, in addition to the stables and the horses, also had a husband who gambled. He drank, too. And he wasn't above raising a fist to her mouth if she complained about it. The poor woman! She had seven children from that man, and she loved him, loved him loved him, but she lost her teeth on that love. She was all drenched up in his love like a rag to wash floors is drenched up in dirty water. She was all torn up about it. And he drank and gambled away the stables, the winery, the grove, square kilometer by square kilometer. All their savings, her jewels, even her dresses, shoved over the wood boards of a tavern table, handed over to the money lenders together with the dirt under the nails that tended and nurtured every trellis in that olive grove. Ohteh! All that work, exchanged for sweaty playing cards and dice.
In the end, the sons, who had already left, penniless, to raise their own families, went to the house one night. I imagine them still, with those long boots they wore in those days, right up under the knee, the soles all caked up in mud because they were farmers, every last one of them. They waited until he was in a tavern, drinking, what else? And gambling away his wedding band. The sons snuck up the back stairs like thieves and packed her up like a saddle. She didn't want to leave, though. She was so in love with that man that she kicked and screamed as they hoist her up on the wagon, a hand on her mouth and an arm wrapped around her flailing arms.
"Mamma!," they said, "If we don't take you with us that man will kill you. He will pummel you to death and sell the teeth in your head for game."
They took her to Follonica, to the farm where my mother grew up. They made her swear that she would never go back to him. But one day she made them take her back to Grosseto. They would not let her get close enough to the house, and by then it wasn't a mansion anymore because he had sold that, too. There was only a crooked thing of a hut that he lived in, full of cracks and holes. They took her, but they would not let her speak to him, only watch him as he sat in front of his poor excuse of a house, with his cards and his wine and his hate of life. Anyway, he already had a mistress, always trying to marry into money, to find some small scrap of silk or gold to gamble away. But my great grandmother wanted to see her husband one last time. She said he was beautiful. She watched him from the edges of the hill, through the olive bushes, like a thief, watched him stooping over his cup, his hair falling down over his cheekbones, watched him until the sky was red and bruised like old love.
"Ah, how beautiful he is," she sighed, with a hand to her bosom and her cheeks flushed like the soprano in an operetta. All the acres of land, the title, the jewels didn't matter one thing to her. It was only for the sons that she left him. But they wouldn't let her near him anymore.
One of her sons, I think it was my grandfather, said, "Mamma, if he raises his fist to your mouth again, I will kill him. Don't make me kill my father." So that was the reason she never went back to him.
And so you see in your family you have a countess. I bet you'd never think it, ha ha! You're so used to seeing your grandmother with this apron, these slippers, this ugly wool coat and foulard. You'd never think I had some blue blood in me, would you? And to think that to support your mother after my husband died I had to work in the cooperative, twelve hours a day. They'd lock us in the storehouse overnight with the rolls of dry pasta and the sacks of flours to do inventory. Once a mama cat had her litter in there. She had crawled up in a nest of linguine. It was all soaked in cat blood with seven mewing wet pink mouths lifting their cries from the rolls: you'd think it was an American movie, all those wet heads and pink tongues budding up from the rolls of dry linguine like aliens. But no, it was our bad luck, crying to us from the wet womb of mystery. We had to pay for the ruined pasta of course, even though it wasn't our fault that the mama cat chose to have her litter in the storehouse. They said it was our fault because we had to take care of vermin. Well so it is. Flushed down like so many other dreams, that countess title your great grandmother lost to a bottle of wine, and that mama cat, too, with all her screaming kittens. And your grandmother ruining her knees all day in the cooperative. Ohteh! Sometimes you'd think God has forgotten us.
But my mother's dream, now that makes me concerned. I wonder what she meant, coming after all these years, asking for roses. Because, you know, the dead have a way of speaking to us from the grave. When they want to tell us something, they know how to break through from the other world. I only wish they were clear about it. Let me call your cousin Rosalinda. She's good with dreams. Maybe she can help me figure it out. My mother, she was dressed in sack, except for that shawl. That means she's doing penance, ohteh, poor woman. As if we hadn't paid enough in living that we have some debt left over in death! Ay mamma, let me call Rosalinda, vai: she's good with dreams. She can help me figure it out.
---
Laura Valeri is the author of The Kind of Things Saints Do (U of Iowa Press), an Iowa/John Simmons Award winner, and winner of the Binghamton University John Gardner Award. Her work appears and is forthcoming in Glimmer Train, Big Bridge, Gulfstream, Creative Nonfiction, Literary Potpourri, Night Train, Waccamaw, Adirondack Review, Zahir, The Patterson Literary Review and Web Conjunctions. She is Assistant Professor of Creative Writing specializing in fiction at Georgia Southern University.