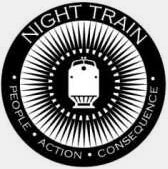 Chazerai
by Caroline Kepnes
My parents are on their honeymoon in Venezuela, sick for a solid week, two bodies, one toilet. My father's line: We didn't go there; we crapped there and then your mother brought all their crap back to Pittsburgh! Our house is trinkets bought the day their bowels cleared, evidence, it may as well be tagged, ashtrays, carvings, chazerai if you ask my father, culture if you ask my mother, yes we did go there, are you blind, where do you think we got these candlesticks. These mementos predate my existence; they are concrete as a dinosaur in the Museum of Natural History, unquestionable as the milk in the fridge.
I went to college but I didn't really go there. I didn't have threesomes and read Foucault and eat memorable falafel on hallowed steps and fall under the spell of my own stench and use my brimming femininity to get extensions on assignments and steal my roommate's boyfriend while my roommate was off tutoring a child who would probably never make it to college. I was just another self-diagnosing psych major, slack spine behind the check-out desk at the library, not poor enough to harbor luscious memories of the time we all ate dry macaroni, not rich enough to know what to say to someone telling me a story about a jet ski, a hotel maid. Pittsburgh was not Peru, not even Philadelphia, creamy and common as Dave Matthews,
crash into me, crash
and I didn't know how buy coke or listen to Pavement. I was not kindling. I was not my mother. I was not Sudanese dance, not anime, not a naked groggy girl in soft slippers, flat belly, flat, eyes, learning what it feels like to betray, to live on dry cereal and guilt. I loved one boy the whole time I was there, Samuel H. Wendell. We spoke once in an elevator where I could smell him, incense and Brooks Brothers and orange juice and that was that.
There is a photograph of Mom at a party when she was in college. It was before digital cameras, when all photographs held more mystery, but even so, even if it were crystalline and modern, Mom would be something to see. She has no idea her picture is being taken. Her hair is big, she's laughing and she's facing a guy with broad shoulders shrouded in mustard corduroy. Her head is tilted back. He's laughing as hard as her, if not harder. They're fused and she doesn't even remember who he was. Empty beers abound. It looks like the kind of place where the Rolling Stones would have recorded an album. I asked her about it once.
"This? Oh God, honey, I don't know. That was every night back then." There are no pictures of me laughing freely, unaware that I'm being captured. The only pictures I have are the ones that I posed for, flanked by friends like me, old maids at twenty, on some apple picking day trip, suppressing and analyzing our unrequited crushes. Mine was Sam Wendell. I memorized his collection of wool sweaters, the way he ate cereal with the abandon of a four year old, the way he doodled in physics class, his socks, his girlfriends. I didn't know Sam. I only watched, as if my feelings were inappropriate. I sometimes wanted to show him the photograph of my mother. I thought if he could see my genetic hotness he might want to
crash into me
. But he would have thought I was crazy. He would have been right.
How Mom got Dad: She was a bon vivant, all over a different mustard man every night, thriving on attention, forgetting to feed her cat named Elmore who she shared with everyone else in her co-op—too cool, too cool—not wearing a bra, always sitting Indian style on a shag carpet, letting the men dare to kneel down and try. One night my dad tried. They slept together and then she went two years without returning his phone calls or hugging him back when they would run into each other. Two years of this resistance and Dad just kept going, kept looking for her around every corner at every party, in every library. He tells it as if it's a happy story. He knew she was the one. Someday she'd know too. She laughs and says he had no idea what he was doing. By the time she called him back for that post-coital cup of coffee, twenty-four months after the first meeting, he was so obsessed that there was nowhere for them to go except marriage. Their life together was as unavoidable as the next stop on a train. She nods and tells me this on my fourteenth birthday when he's in the bathroom, "That is how you get a man, honey. You give it and you take it away. You make the man your own whether he likes it or not." I worry about this directive throughout my adolescence. I do not give it and so I cannot take it away. Nobody writes about me late at night. Nobody masturbates over the thought of me curling like a Aboriginal fingernail, nobody except maybe for the Down's Syndrome kid who lives down the street, and I'm probably going to hell for getting an ego boost from his smiles.
It's standard stuff tonight. Dinner before Dad drives me to the train station. Placemats tattered, some CD Mom declares to be bohemian low in the background, mashed potatoes on my plate, not on Mom's, she doesn't like them. Try having a mother who doesn't like mashed potatoes or potatoes. Try it. See if your thighs don't rub together when you walk.
"Well, if you're so unhappy you should quit."
"And do what?"
"I don't know. Find something else. You're a bright girl."
"No, if I'd gone to Tulane, I'd be a bright girl. If I'd gone to Tulane, I wouldn't have student loans. I would have been paid to exist. But I went to Harvard and for a Harvard chick I'm just not that impressive."
There is a legend that I know to be true. Admissions officers get so overwhelmed by the mammoth amount of applications that at some point, they get reckless. They throw them down the stairs and whichever applications land on top get special attention, possibly even acceptance. Most nights I dream about that staircase in the admissions building, the building where I would go and sit when I was feeling lonely. I dream that I am falling down the stairs, failing up to admissions. And then I'm awake and it's time to go to Filter Magazine and temp again. Plus which, I'm sweaty, so I have to take a shower even though I washed my hair last night. Ugh.
My mother has gone into the kitchen. My father is glaring at me. "She can't handle your depression on top of her own. Go in there."
"You think Mom's depressed?"
"Since the day I met her."
The notion of Mom as a depressive is unacceptable so I turn it all on him. "Well, maybe I can't handle your obvious disappointment in me."
"We're your number one fans, honey bun."
"That's what a psycho stalker says to a movie star or something. It's not what you say to a daughter."
He plops potatoes on my plate. I don't have a therapist because everything wrong is all too obvious. My father literally feeds me when I hit a nerve. My mother literally walks into the other room and looks at photo albums of me as a baby, when anything was possible. I don't go to a shrink because there is no subtext. I know exactly what's wrong. He wants to stuff me with food and she wants to hop into a time machine. And everyone knows you can't change other people, you can only deal with them, eat the potatoes and vow to exercise tomorrow, walk into the kitchen and nudge Mom.
"Do you think I'm a bad mother?"
"God, no."
"You know, it's not easy for me. It's not like I know anything about anything."
"Mom, that's not true."
"I just wish you wouldn't be so afraid to see the bright side sometimes. Remember this? God, that was fun."
She's running her fine-boned hand over a picture of my fourth grade birthday party. There are more adults than kids. It's the '80s. The adults are smoking. The kids are playing. It does look fun. But it also looks completely irrelevant. I breathe. I think about the vending machine at the train station.
"That was a really good party."
"It was, wasn't it?"
"I gotta go."
"I only want you to be happy, honey. I only love you." She closes the book. It's always the way, the shift she makes, somehow I'm to believe that she's upset about her little girl going away and I'm to pretend that she's not upset that her big girl is an emotionally unstable temp.
Sam and I started dating a week later. It's all kind of unbelievable how it happened. I ran into him with his girlfriend at a farmer's market. She was half drunk and skinny and he asked if I knew where the bathroom was and I walked him toward the bathrooms and he pressed me into the wall in the hot sun and said, "I like you". My father called me a skank. My mother said it's not like this boy was married. My father said he'd never marry me either and if he did I'd be a fool to trust him.
I am back home in the east village, yanking a battered demonstrative college sweatshirt over my head and plowing forth into the public, standing on the subway. No man cares that I went to Harvard. An invisible sixteen year-old girl hunkered down over Proust is me a few years ago. She looks at me and I am all that she hopes to become and I want to scream that I am only trying to get laid, never finished a Proust book, not one.
"Ally?"
"Gillian. Wow, this is your train?"
"I usually go in earlier." Gillian grips the pole. Gillian is a writer for
Filter
. I order office supplies for her and earn a fraction of what she earns and she comes from the middle of America and her hair looks the same every day, shiny, parted, like her personality, shiny, parted, like her bare midriff, shiny, parted.
"Are you serious with your sweatshirt right now?"
"Uh huh."
"How did I not know you went to Harvard?"
Proust stares.V "I guess we never talked about it."V "Like half my friends went there. My boyfriend went there for God's sake."
"Oh really?
"You have to know him. He's, like, the perfect man. Sam Wendell."
My cheeks flare. "That sounds familiar."
"I am so Facebooking this right now. I write for
Filter
for what, eight months? And only now I learn the temp secretary is, like, my boyfriend's classmate. Freaking crazy, right?"
"I'm actually a playwright. I'm just temping while I write plays. Scenes." Look at Proust. Proust looks at floor. How is Sam? You can't ask her again; he's not yours.
***
On the phone with Mom and Dad: Mom on the cordless, Dad on the cord, and Dad is, what is the big deal? You didn't even know this boy and you hate this girl and if his girlfriend is such a bitch then he's probably a jerk and Dad is right and go forward, shark on but your mother is right and you
are
back in touch with him even if you're not actually in touch with him, Gillian will tell him she saw you and maybe he's thinking about you right now, and men don't understand what it is to crush, to
crash into me
, and Mom loves that song and remembers that feeling and Dad is hanging up,
I can't listen to this crap. Dave Matthews, what a joke
. And Mom has a feeling, Mom likes the sound of this Sam, the way he's come back, and where in Connecticut is he from, and Dad is back on the phone, your mother's nuts, if this boy is so great, how come you're on the phone with us and not out with him?
Sam did call. I remember the way I held the phone with both my hands, as if the phone were a breakable baby. Sam is a giant soft spot to me and I think that's why we came together. I can't help but worship him and he can't help but enjoy my gratitude. Gillian quit, claiming it wasn't because the secretary stole her boyfriend but because she was too smart for the magazine. Sam and I were on the train to Pittsburgh when we learned that she was in a hospital, that she'd attempted suicide via Xanax and tequila. Sam shrugged and went back to his novel. He said it was nothing but a cry for help.
I jabbed him in the ribs, "You're horrible."
"Gillian's horrible."
"I feel bad for her."
"You wouldn't if you could hear all the shit she used to say about you. What an unfashionable sad sack temp. What a loser. What a joke of a person."
"Please stop."
But he didn't. He kept on. The train was jerky and I felt sick when I tried to turn my head and see him. And he just kept quoting Gillian, "How did she get into your school? Did you see what she was wearing? What a freak. How does she not know any of your friends?"
"Okay, okay. Sam, please."
"I'm just saying, she's an evil person. And you're a good person."
"Okay." I squeezed his hand.
Crash
. "I get it."
"And so what if you stalked me in college? It was cute. You were cute."
"Sam."
He kissed my forehead and we were quiet for a few minutes, the way you can be on a train, the world outside the window, going, going, gone. I didn't like those words coming out of his mouth. They were her words, but they were his too now. I squeezed his hand as hard as I could and I couldn't help but picture him sitting in some teashop with her, the two of them laughing over my awkwardness. I hated him, but we were in Pittsburgh now and I wanted my mom to see him.
Suddenly we were at dinner. Sam was sitting next to me and the Venezuelan candelabra was lit and my mother had on too much makeup and my father was watching the game more than he was watching me and Sam was telling us about his own trip to Venezuela and my mother was effusing
yes I loved those arepas!
And my father was grunting and eyeing my mother and I was running my hand over the thing I bought that day in Union Square that turned out to be a bracelet for the bicep, and Sam was all
Yabarana
and
Villanueava
and my mother's gesticulations were bigger every second and they were all in Venezuela now, even my dad by the third glass of wine,
You saw that temple? I wanted to get to that damn temple
.
"Are you serious, Dad?"
Dad grabbed his goblet, "Of course I'm serious." He looked twelve and Mom was running her hand over her neck, looking at Sam, who was eating, not looking at any of us.
"Dad you always mock that trip."
"Chazerai."
"I know. You say you didn't even really go there."
"That's what I said. Chazerai. I just like to get a rise out of your mother. You know that, puss."
I don't know that and I knew that I had misunderstood all of it. Mom started talking about music and Sam started talking along and Dad looked into his goblet and I thought of him way back when, before I existed, calling my mother over and over, before she was my mother, when she was just a feline Houdini, letting him in and then hiding inside of him, enslaving him from the inside out.
---
Caroline Kepnes is a writer living in a Los Angeles' Franklin Village, where it's all about roasted chicken, used books, cinnamon coffee and late night happy hours. Her stories have appeared in The Barcelona Review, Bartleby Snopes, Dogzplot, Eclectica, The Fear of Monkeys and Thieves Jargon. In 2004, she won the Hemingway Resource Center's Short Fiction Contest. Her biography of Stephen Crane is available on Amazon, though it is intended for little children. She grew up on Cape Cod and started out in New York, covering boy bands for Tiger Beat.