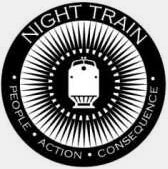 Kaspar Hauser on a Milk Carton
by Michael J. Canavan
Sestina of winter: snow, branch, foxhole, smoke,
milk, window. All of it spinning as if in a mobile.
When the words are missing, pain is my tarot.
I spit out teeth, gambling with blank dice.
It is necessary to lie still, to slip through time
like a thistle through wool. It is necessary
to eat little, knots of stale bread. To be small
enough to ride this soapstone horse.
One night I break the latch, I wander
alone in the dark house like a dancer
in a shut jewel-box, avoiding the mirror,
the look-away glass.
Outside it is so cold it pulls the breath out
like a magician's sash. The horses are there
in their grove of running, hearing the rush
of switch as it colludes with wind,
finding the white tails of their ghosts in full gallop.
I had a dream I was a horse.
I had a dream I was a child.
I must wake up from one of these.
---
Michael Canavan is a recent graduate of the MFA program at Cornell University currently living, writing, and teaching (in that order) in New York