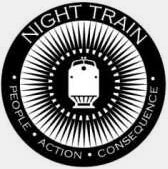 I Fought the War (But The War Won)
by Gavin Broom
The War on Terror ended on Friday at 1645 EST, just in time for the weekend. George watched the news on a big screen in a bar on the Upper East Side, at a table between the theoretical conspiracists and the backgammon enthusiasts, both of whom smelled a rat.
"Of course they'd end it on a Friday," a member of one group said. "It's psychological quantitative easing. Give the country an excuse to have the mother of all hangovers tomorrow and what do you know? All of a sudden, we're back in the black. Amstel and Alka-Seltzer save the economy."
"Well, they sure as hell weren't about to end it on a Monday lunchtime, that's for damned sure," another added, rolling his dice.
Both tables nodded and murmured agreement.
There really was no pleasing some people, George thought. He tried to block them out and concentrate on the press conference where the president was eight minutes into a rambling attempt to answer the journalist who'd asked, "No, seriously—why?" When the response staggered into the misquoting of Bobby Fuller lyrics, the bartender smiled and reminisced on how much he loved that song. George threw down some green and left.
Madison Avenue looked much as Madison Avenue always did but George tried to convince himself that the stars fluttering from hotel flagpoles sparkled with more vigor today and the stripes had swollen with pride. Maybe even the pedestrians bumping into him as he strolled were doing so with stiff, straight backs and puffed chests. In his heart, he knew the truth.
At an intersection, a young woman said into her cell phone, "I know, I heard. Isn't it awesome?"
George laughed with relief. Thank God. It wasn't just him after all. A sturdy lid on his sense of decorum prevented him from hugging and kissing the stranger right there in the street but he allowed himself to daydream. He imagined himself in a sailor's uniform, tossing his hat to a confetti-filled sky while marching bands imbued the scene with the kind of pomp only achievable through brass instruments and a pacy four-four time signature.
"But you know what I'm really looking forward to?" the young woman continued. "Being able to be scared without those bastards making me feel guilty about it."
The bubble popped. The lights changed. Streams of people formed a boxed X as they crossed the intersection, rushing like dogs out of traps, hurrying to get home, to pick up kids from after-school clubs, to make that dinner appointment, to grab a cold one with the backgammon dudes, to catch that movie, to barge by the weird guy who seemed to be the only person on the planet standing still.
"It's over!" George cried. "The war is over!"
As the crowd swept him away, a distant voice shouted the obvious question. George was stunned to find he didn't know the answer. He didn't think anyone had actually said who'd won.
---
Gavin Broom tries to live a bohemian existence in the Scottish countryside. His fiction has appeared in SFX, Bound Off, Menda City and Jersey Devil amongst others and he is a nominee for the 2010 Pushcart Prize. If you're buying, he'll have a Black Label, no ice.